If you're just starting with your freelance career, it can be difficult to find work. That's why I've put together this list of the best freelance websites for beginners to help get you started.
These websites are the perfect way to attract more clients to your services and gain referrals so you can grow your business even more.
I started my own freelance business in May and have now been freelancing for 8 months as both a graphic designer and social media manager.
It's been a true delight, and I can't see my life being any other way. Luckily, my business started on the right foot because I utilized lots of these freelancing sites for beginners when I first started.
Krystianna in Florence, Italy. With freelance jobs, you can work from anywhere
The internet is covered with job boards, but I've helped you out by putting the best freelancing websites for beginners here in one place. Some of them might surprise you. Did you know about #6?
Here's my list of the 15 best freelance websites for beginners. What is Freelance Work?
Freelance work is perfect for those who want to be their own boss, give themselves their own job title, and work in a variety of different industries sharing their zone of genius.
Most freelancers work from home so they can live anywhere they want as long as they get the job done, while others are actually freelancers in-house, which is another possibility.
At times it can be hard to find work as a freelancer, so even those who are far along in their freelancing career look for clients on beginner freelance websites to get some leads.
To be a freelancer, you have to have solid time management skills, people or customer service skills, and a strong drive for success.
Freelancers are their own boss and usually own their own small business — there isn't anyone that's going to cover for them if they decide to slack off.
Freelance work is incredible if you have the right kind of personality and diligence in your work ethic. It can be enriching because you can help tons of other business owners reach success by utilizing your services.
Remote Work vs. Freelance Work
Don't get this type of work confused with working remotely.
With remote work, you are usually an employee for a company, so workers of this kind report to a supervisor or boss throughout the day. Plus, there are teammates to rely on if you need help or collaboration.
Remote work often also pays less (this isn't always the case, but normally is) which is why freelance work can pay off if you work hard.
Freelancers work for themselves and are essentially an expert in their field. This means being able to charge a lot more for their projects versus someone who works as a salary job.
Imagine being able to set your own hourly pay or a fixed rate for projects — as a freelancer, you can do just that!
Looking for more Freelance articles?
What to Look For in a Freelance Website
When looking on freelance websites, there are a few things to look out for. First of all, most freelance sites that act as job boards for potential clients do take a cut.
For instance, one of the most popular sites, Upwork, does take 20% of a freelancer's pay for the first $500 they make working with each client.
The longer they work together, the more that percentage goes down. But, it's just something to keep in mind because you might want to have slightly higher rates to make the same amount you would off the platform.
Some sites also have someone handpicking the jobs, or they've created their own software that works to find jobs that aren't being applied for as often.
These unique qualities are usually what make the platform stand out.

Upwork is one of the top freelancing websites for beginners (but, they do take a cut)
A majority of freelance websites also require you to be vetted to apply for jobs or even join the platform. Going back to Upwork as an example, which requires you to apply to the website before you can start applying to the client postings.
Don't get discouraged if you aren't automatically approved because they try not to have too many people offering the same services to give the freelancers on the platform a fair chance.
Last but not least, some websites might also require you to pay to join them.
This is a case of risk versus reward, so you'll have to decide if it's worth it to access a larger (often higher-quality) client base by paying a small fee.
8 Tips For Being Successful When Searching Freelance Websites
Of course, there are also some tips for being successful when searching for freelance sites for beginners. Be sure to keep these in mind when applying for positions that clients need help with.
Remember that you aren't an employee. As a freelancer, you are your own business owner who is collaborating with another business owner to help them achieve success. Get rid of the employee/boss relationship idea immediately!
Keep a lookout for red flags. If a job seems way too good to be true, then it probably is.
Charge your worth. I made the mistake of lowballing myself for a few of the first interviews I had with business owners who wanted to use my services just because I wanted to make that sale and start a stream of income. But, the amount of time you lose is completely not worth it.
Let your personality shine. This can be part of a magnetic pitching strategy when trying to get clients to want your services.
Have a clear idea of what type of business owners you want to work with. This can really help you to not have awkward conversations down the line if you end up working with someone that you had a funny feeling about from the beginning.
Don't say yes to everyone. Your ideal client will show up eventually, you don't need to say yes to every job.
Create a portfolio. If the type of service you offer can be best shown in a portfolio, make sure that you have one that you can easily share with potential clients. They love seeing your work in action because it can prove that you're an expert at what you do. Better yet, create your own freelance website that showcases what you offer.
This is more of a general tip, but try to set aside at least 1 hour a day sending proposals and pitching to clients who are interested in your work.
What Are The Best Freelance Websites for Beginners?
It can be tough trying to find work as a beginner when freelancing. It's best to start with searching on freelance websites because you can quickly find clients in need of the services you offer.
Eventually, you might want to make your own freelance website and have a content marketing strategy to get your ideal clients to find you instead of the other way around.
Here are 15 of the best freelance websites for beginners:
1. FlexJobs
While FlexJobs is mainly for remote jobs, they do offer some freelance positions as well if you do a thorough search. This site currently offers 30,000 different jobs in a variety of industries, from fashion to travel.
You do have to pay a small price to access the positions posted on FlexJobs, but that's because the site works to stop spammers from applying to positions and also uses the money to stop ads from being shown on their site.
No matter what position you're interested in, you can pretty much find it on FlexJobs. Just make sure that it's one that says "freelancer" on it and not "employee". Click here to learn more.
Use promo code NOMAD to receive 30% off the membership fee.
LEARN MORE ABOUT FLEXJOBS HERE
2. SolidGigs
SolidGigs is one of the best freelancing websites for beginners if you're looking for hand-picked jobs.
This means that the platform will find jobs best suited for the services that you offer and make sure that you know about them so you can apply!
A site like this is perfect for beginners because it can save you so much time that you can focus elsewhere, such as on your own outreach on other platforms and making connections.
To join SolidGigs, all you have to do is enter your email and get on the list — it's as easy as that.
For reference, SolidGigs currently features positions such as Freelance Guest Blogger, Senior Marketing Designer, and Media Consultant. Be sure to check and see if it's for a full-time job or if it's freelance since this site offers a variety of both.
Click here to try Solid Gigs for just $2.
If you're a design freelancer, then you have no reason not to be on 99Designs.
This platform allows clients to find your personal profile and hire you. Or, a client can host a competition to see how each person would approach a project before hiring.
To join, sign up on their website and get designing! It's as simple as that. Just be sure not to spend all of your time participating in just the contests.
4. Upwork
Upwork is said to be one of the best freelance websites for beginners, if not the best, because there are so many jobs on there at any given time no matter your skillset.
Essentially, freelancers use tokens called "connects" to apply to different positions and try their chances at getting hired by a client.
It's a great site for beginners because it's near impossible to not get at least one client with your first 80 free connects if you use them wisely.
There are a multitude of jobs on the platform, including virtual assistant positions, digital marketers, copywriters, and more. You can even find freelance photography positions on there if you happen to live in the same area as the potential client!
Read my review of Upwork and see if it's right for you.
5. Fiverr
This platform works opposite of Upwork. A freelancer can join and create their own custom packages (usually with the first package starting at $5, hence the name) to attract clients.
So, the site works as a search engine, and clients can find someone offering exactly what they want for their price range.
Some example positions on the site right now include UX designer, brochure creator, and blog writer. However, since you're the one who creates the posting, you can make it for any of your skillsets. Learn more about how to make money on Fiverr.
6. Facebook Groups
Facebook Groups are often overlooked as a great spot to find freelance gigs for beginners. If you know what kind of client you'd like to work with, then you can pretty easily find jobs on the platform.
For example, if you want to work with travel bloggers, then search for Facebook Groups that are created for them. Don't just start posting in the group sharing what you do, but wait until someone asks a question about your expertise and leave a comment answering their question.
Sometimes, the person who asked the question will want to know more and ask you about your services.
In Facebook Groups, you can find lots of blog writing, virtual assistant, and social media manager jobs. Be on the lookout for jobs that are charging way too little and remember to know your worth.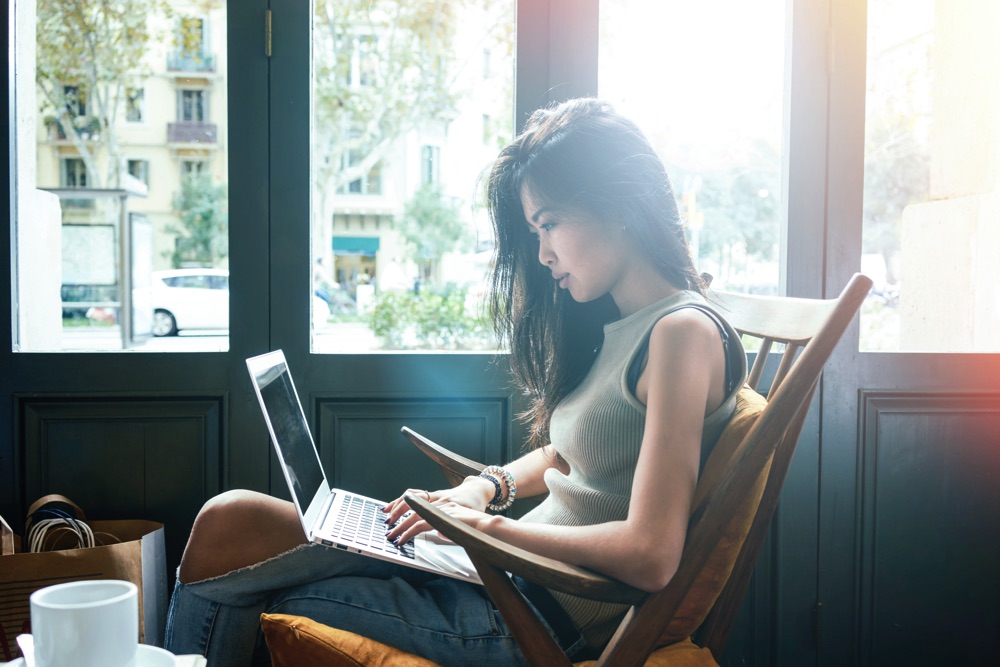 7. PeoplePerHour
PeoplePerHour is another one of the best freelancing sites for beginners.
Keep in mind that the name of the site is a bit misleading because there are postings for both fixed price and hourly jobs on the site. Pay close attention as to whether the job you're applying to is for a fixed price or hourly pay.
There are around 5,000 different jobs posted at any time, including positions for virtual assistants, translators, graphic designers, and more.
This site is perfect for beginners because there are constantly new jobs being posted, so be sure to always check in on the site when you have the time.
8. Dribble
Dribble is an amazing spot for freelancers who are looking to offer creative services of any kind. For example, a lot of the jobs on this site are for web designers, graphic designers, and branding strategists.
Companies both big and small post what kind of services they're looking for on this site.
There is a general job board that offers both freelance and full-time gigs, but you can pay a small fee to get access to the exclusive freelancer-only board.
9. Behance
Many people don't know this, but Behance, Adobe's portfolio website, actually has its own job board that is perfect for beginner freelancers.
Oftentimes, the jobs are posted by individuals or small business owners who need help with tiny, one-off projects. These can be great for getting your foot in the door and having more testimonials to share with future clients.
One important thing to note is that if you're looking to apply for jobs on here, make sure that you have your own Behance profile and portfolio fully updated because that's what gets sent to the client when you apply.
It's not a good look if your entire profile is empty or very outdated!
Similar to Dribble, Behance is catered towards creative job postings, in fields such as animation, photography, app design, and even fashion design.
10. Freelancer
Freelancer is a great website for those starting their career in freelancing — in fact, I used it often to apply for jobs myself when I started.
At this very moment, there are 19,000+ different job postings on Freelancer, so there are lots of clients in need of help with services just like yours.
With Freelancer, users can apply to jobs with a "bid" and then clients can choose whoever they feel is the best fit for their project. Some example positions on the site include proofreader, SEO expert, and logo designer, and many others.
11. TopTal
TopTal is an exclusive freelance job board that you have to apply for, and they only accept around 3% of their applicants.
However, as a new freelancer, don't let that discourage you because if you have strong skills from your old job, then you can absolutely be admitted to this site.
TopTal posts freelance positions with companies like Airbnb, Zendesk, and Shopify, among others. The site is actively looking for freelancers who specialize in design, developing, finance, and project management.
12. Media Bistro
Media Bistro, while it offers full-time and part-time positions, also has a specific part of its site dedicated solely to freelancers.
All users have to do is create their own freelance profile, and they can apply to any of the freelance jobs on the site.
There are tons of remote and in-person freelance positions on the site, ranging from freelance production assistants at NBC Universal to 3D animators. This is a great way to start getting experience as a new freelancer.
13. Angel List
Angel List is somewhat of a hidden gem of a website, and it's one that I've consistently used to find new leads and apply to jobs ever since my freelancing career started.
This site is super easy to join, and you can look for both in-person and remote freelancing jobs.
The great thing about Angel List is that it only allows job postings from startups, so if you know you want to work with smaller businesses, this site can be a gold mine for you.
14. LinkedIn
Believe it or not, many people post about freelance positions they need to be filled on LinkedIn all the time.
These are often on the LinkedIn job board, but you can also do a quick search using the search bar on the platform to find and connect with people who want your services.
The only downside to LinkedIn is that because there are so many people on the site, you'll most likely be up against quite a few other people when applying to jobs.
That's why it's important that you apply across a wide variety of platforms and find what works best for you.
15. Guru
Guru has almost 2 million different job postings for freelancers, with a majority of them in programming, translation, and the arts. If those are one of your services, then you will find an abundance of potential clients on this site!
It's pretty simple to join and is great for newbie freelancers because of the wide variety of job postings, and the fact that there are so many.
Freelancers won't be up against as much competition as they would be if they were to apply elsewhere.
10 Best Freelance Jobs
If you're considering starting a freelance business but don't know what job to offer, then this part of the post is for you. Here are some of the best freelancing jobs (and the highest paying).
1. Freelance Writing
Do you have a knack for the written word? Well, you can actually be a freelance writer. The great thing about this is that if you have a specific niche, you love working with, like fashion or travel, then you can easily find jobs for that industry.
Freelance writing can include copywriting, social media caption writing, blog writing, and even ghostwriting novels.
2. Translation
Translators are always in high demand. If you are bilingual and can speak a second language well, then you're in luck when it comes to searching for freelance jobs.
3. Teaching English Online
If you love teaching others and speak English, then teaching English online can be a great way for you to make money as a freelancer. There are tons of great resources out there if this is the specific type of job that you're interested in as well.
Unlike other jobs on this list, be prepared to be vetted to teach English online to make sure you know your stuff.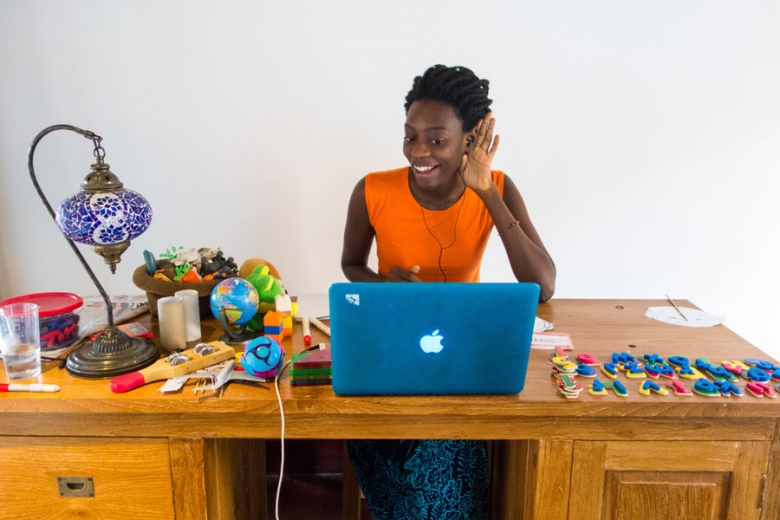 Teaching English online is a great job for freelancers 4. Graphic Design
Graphic designers are always in high demand. With design, you've either got an eye for it or you don't! If you're one of those lucky people who do have a knack for design, you can charge quite a bit for your services, especially as you become an expert in your field. Beginners tend to make around $25/hour.
Learn more here:how to make money as a graphic designer.
5. Social Media Management
Social media management is one of the most important aspects of digital marketing today, and many small business owners don't have the time to commit to it. So, needless to say, social media managers are always needed like graphic designers.
If you've got an eye for creating fun social graphics and you love caption writing and growing accounts with organic growth methods, then this might be a great freelance career path for you. Learn more about making money as a social media manager.
6. Virtual Assistant
Virtual assistants essentially do exactly what it sounds like — they are an assistant to business owners and they work virtually. VAs complete a variety of small tasks throughout the week.
The great thing about being a virtual assistant is that one day you could be creating graphics while the next day, you might be helping to build an email marketing sequence. Learn more about how to become a virtual assistant.
7. Instructional Designer
E-learning is one of the most up and coming industries at the moment, and for a good reason.
More and more people are switching to online learning, and lots of service-based business owners are even starting to sell their own online courses sharing their knowledge so that they can make a bit of passive income.
This is a great freelance career to pivot into if you're a teacher and are looking for a change.
8. Web Designer
Since this is a digital world, almost every single company has its own website, and it's important for them to stand out from their competitors. Web designers do just that and build sites on Squarespace, WordPress, and Wix.
Make money creating websites for clients 9. Branding Expert
Having a logo and a strong, cohesive brand identity is essential when it comes to having a business of any type, whether it has an online presence at all.
Branding experts create logos, mood boards, and really work to help showcase everything that a brand is about in just one single image.
10. Accountant
Accountants are always in fairly high demand and are commonly the first position to be outsourced by small business owners who don't have the time to keep up with their business's financials. If you're a money person, you're in luck because there's always an abundance of these positions online.
What Are the Pros and Cons Of Being a Freelancer?
Unfortunately, being a freelancer isn't all rainbows and butterflies, but it does have its perks.
Pros
You are your own boss. No more having someone else constantly tell you what needs to be done!
If you have a freelance remote job (like most freelancers do), then you can work from anywhere. Yes, that even means from your favourite beach.
Freelancers can make a lot more than they would at a desk job doing the same services.
Successful freelancers get to grow and expand their team. Imagine that – having your own business with people who align with your vision and want to help your business grow.
Cons
A lack of time management can completely ruin your business and lose you, clients.
If you find yourself sick one day, you can't necessarily find someone else to do all the work for you if you have a deadline.
There can be weeks sometimes where absolutely no work is coming in.
Now you know the best freelance websites for beginners
The key to success as a freelancing beginner is to keep putting yourself out there. Be sure to frequent these freelance sites often and always check in with them at least once every few days to see if there's a client that is looking for services like yours.
I hope you found this list useful. If you did, please leave a comment below and share this article with your social media contacts. Happy freelancing!
The post 15 Best Freelance Websites For Beginners appeared first on Goats On The Road.
http://feedproxy.google.com/~r/goatsontheroad/AJHf/~3/MkMli4uFvNU/
Finding unique gifts for travel lovers can be a daunting task. Not only do you need to find a gift that they'll like, but something they'll actually use.
As travellers ourselves who have been on the road for more than 10 years now, we've got the inside scoop on useful and fun items for travel that would make great presents.
Whether it's a birthday, Christmas or a going away gift you're after, you'll find some gift ideas for travel lovers in this article.
In this post, I'll list 12 unique, fun and practical travel gifts for your special someone.
On another note, we recommend also looking at the small businesses in your community and seeing if there are any products or gift certificates you can purchase, or other ways that you can support them this year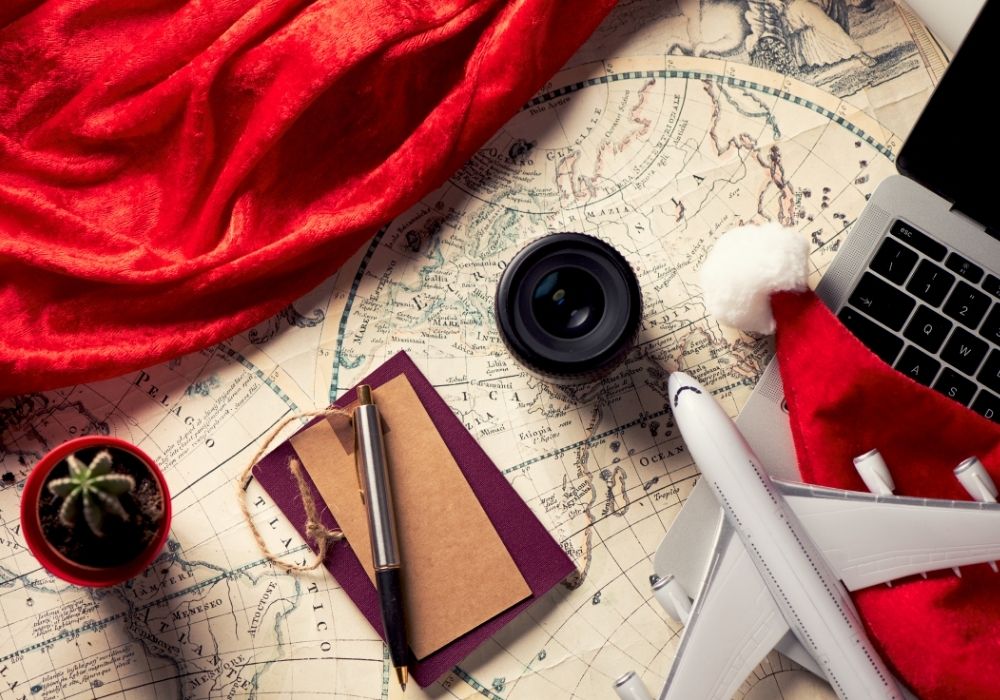 This article has been updated December 2020 to list gifts that your travel-loving family and friends will enjoy, but aren't necessarily presents that could only be used while on the road.
This post contains some affiliate links to Amazon and other companies. If you purchase a product using our link, we receive a small commission at no extra cost to you. Thank you for your support!
1. Airbnb Experiences (online or in-person)
This is my top choice for gifts this year.
Sure, many people aren't actually travelling at the moment, but what better way to keep the travel dream alive than joining an online Airbnb Experience?
These online experiences make for very unique travel gifts.
While you may not actually be in Italy, England, Mexico, or India, you can join an online class with people from there! Here are a couple of the top-rated options you can choose from:
Making Pasta With an Italian Grandma (a travel gift for foodies!)
If you love Italian food, you'll want to join this cooking class. Travel virtually to an Italian grandma's home and learn how to make pasta from scratch — from the experts.
Gnocchi, lasagna, ravioli, fettuccine and more. You'll be sent a list of ingredients and the tools you'll need to participate. Click here to learn more about this highly-rated, yummy class.
Fun fact: at the beginning of 2020, Nick and I actually did this Airbnb experience in person in a village outside of Rome. It was a great cooking class, the grandmas were so fun, and we were SO full by the end of it! Highly recommended. Find out more here.
Gin Cocktail Class With a Mixologist
If you're into gin, you'll want to check out this cocktail class with an expert from the UK. Expect to learn some unique gin cocktails, play some drinking games, enjoy some jokes and laughter, and a fun night with new friends.
This is a fun experience for singles, friends, couples, families and groups. You'll be sent a list of ingredients and tools you'll need in order to participate. Click here for details about this highly-rated class.
Taste Of India – Tea and Food
Learn more about Indian culture and cuisine with this online cooking class. Each day offers a different menu, so just choose the one that you think your travelling friend will enjoy.
Whether it's butter chicken, matter paneer, vegetable biriyani, paneer butter masala or samosas, there's something for every Indian food lover! Of course, masala chai tea is also on the menu.
JD is from Delhi and his family have owned a restaurant for three generations now — your special someone will be in good hands with this experience. Learn more here.
Other Travel Gift Ideas Online
Those are just 3 of the MANY amazing online experiences found on Airbnb. If you're looking for a gift that isn't food and drink related, there are many others — music, dancing, magic, storytelling and more.
We've tried numerous Bluetooth portable speakers over the years, and as far as affordable electronic travel gifts go, these speakers are the best.
Everyone has a smartphone these days and connecting to these JBL speakers is easy. Plus, it weighs in at just over 1lb, making it practical for travellers.
Many people like to listen to music while they're at the beach, chilling out by the pool, or having a relaxing night playing cards with new friends. Bluetooth speakers are a must. These days, we also use them for watching Netflix on our laptops.
We've owned the JBL Flip 4 and Flip 5. Both are great, but the Flip 5 is waterproof and sounds excellent. This is an affordable gift for travel lovers.
Not only is this travel gift great for those who love to wander, but it's an excellent idea for coffee addicts.
If you've gone on a long-term trip before, or if you travel on a budget, you'll know that the coffee available at hostels and guesthouses is usually sub-par filter coffee.
Or, if you're camping, hiking or living out of a small vehicle, this is a great gift to get that coffee fix!
Portable, handpump espresso machines can be taken on the go. They're small, compact and all you need is some hot water and some espresso grounds.
You simply add the grounds to a little pod, add some hot water, pump up the machine to build up some pressure, press the release button and voila, a shot of espresso appears.
You can then add more hot water to your cup to make it less strong, or, add milk.
We've used the Handpresso machine, our friends prefer the AeroPress, while the Wacao Minipress is popular on Amazon. Click here to learn more about handheld espresso machines.
With products for all sexes, and unisex items, you can find natural body care items from companies like Lush or Ethique.
Products are vegan (or vegetarian), handmade and nothing is tested on animals.
Not only that, but the ingredients are all-natural, and for the responsible traveller in your life, they'll be happy to know that many of the items don't have any packaging — plastic or otherwise.
When you're thinking about gifts for travel lovers, consider the shampoo, conditioner and soap bars, body lotions and face wash — many of which come in nice packaging, perfect for a present.
These items are great for travellers for many reasons:
There's no plastic waste.
No liquids so they can easily be brought on board a flight — great for those who fly carry-on.
Takes up less space in luggage than a shampoo or conditioner bottle.
Travel hammocks are great for those are looking to sleep under the stars, or on remote beaches. It's also great for campers or for those who like to do some multi-day trekking (provided there are trees around to hang the hammock from!).
A travel hammock is also an excellent travel gift for those who just plan to backpack around.
Setting up a hammock on the balcony of your beachfront hut, setting it up for a break mid-hike, or bringing it to the beach for a day of chilling out between two palm trees is the ultimate in relaxation.
There are numerous travel hammocks to choose from, just make sure you get one that is lightweight and rolls up into a small package. Travellers like small items!
With more than 20,000 positive reviews, the Wise Owl Outfitter hammock is a great choice. Click here to compare prices and reviews on numerous travel hammocks.
6. Bluffworks Clothing
Bluffworks brand of clothing is a good option whether you're on the road or at home. The clothing items are quick-dry, stylish and the best part…they don't wrinkle!
For business travellers, or those who jet-set, having a nice set of clothing in your luggage is essential. Even if the person you're buying a gift for plans on budget backpacking around the world, it's always a good idea to have 1 nice dress shirt and 1 nice pair of pants.
You never know what can happen on the road. We've been randomly invited to weddings, found ourselves in the area when a new bar was opening up and were invited to enjoy a 7-course fine dining meal.
Shorts and a t-shirt simply wouldn't meet the dress code.
Nick has owned the "Original" pants in charcoal for about 6 years now, and he wears them whenever there's a "fancy" event happening — and they never wrinkle. Click here to learn more about Bluffworks clothes.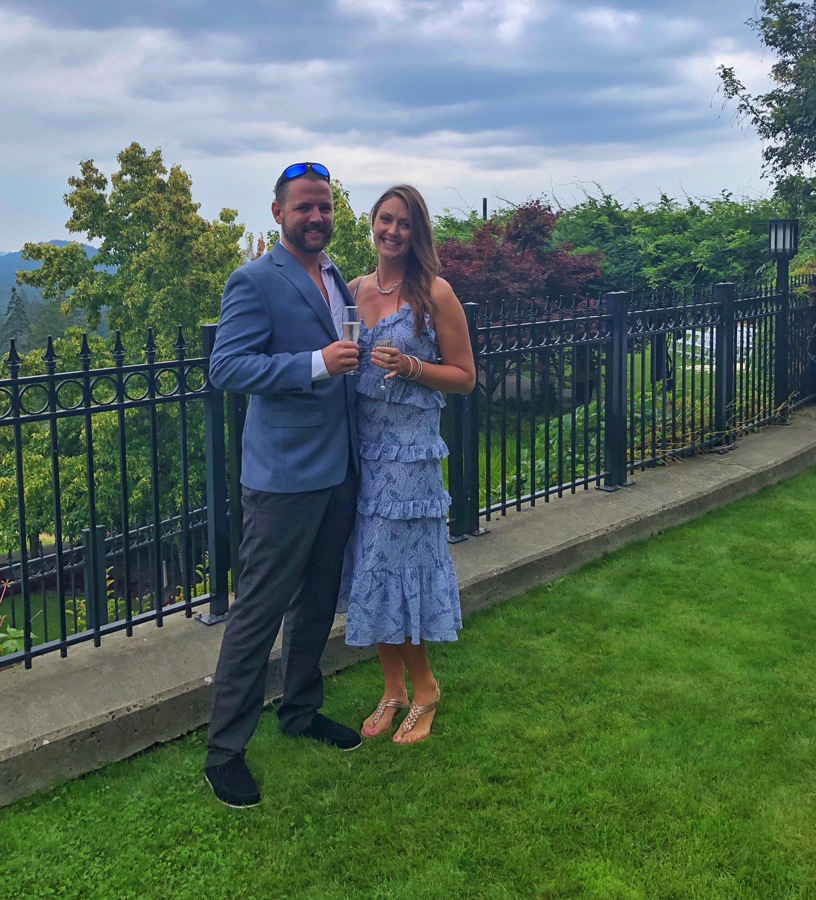 Bluffworks pants in action at a wedding! 7. Airpods/Earbuds
Having a set of Bluetooth speakers is great, but having your own set of headphones these days is a must.
Listening to music and podcasts while bumping along on a bus, hiking or working out. Chatting to a friend on video calling, or for those flight days when you want to watch a movie, headphones are a must-have and make great gifts.
Look for earbuds that offer noise cancellation and a mic, and also make sure that the earbuds you're purchasing are compatible with your travel friend's smartphone or tablet.
We now both have Bluetooth Apple AirPods and although we can't use them when connecting to the TV screens on airplanes, we watch our shows on our smartphones or tablet using them.
Plus, when walking, chatting on the phone, and working out, it's nice to not have cords in the way. Click here to compare the different styles of AirPods.
8. Tinggly
When it comes to travel gifts, this unique idea from Tinggly is a good bet. Visit their website and choose a category that's relevant to the recipient of the gift — "Key to Europe", "Perfect For Him", "Perfect For Her", "Merry Christmas", "Ultimate Collection", "Bucketlist", etc.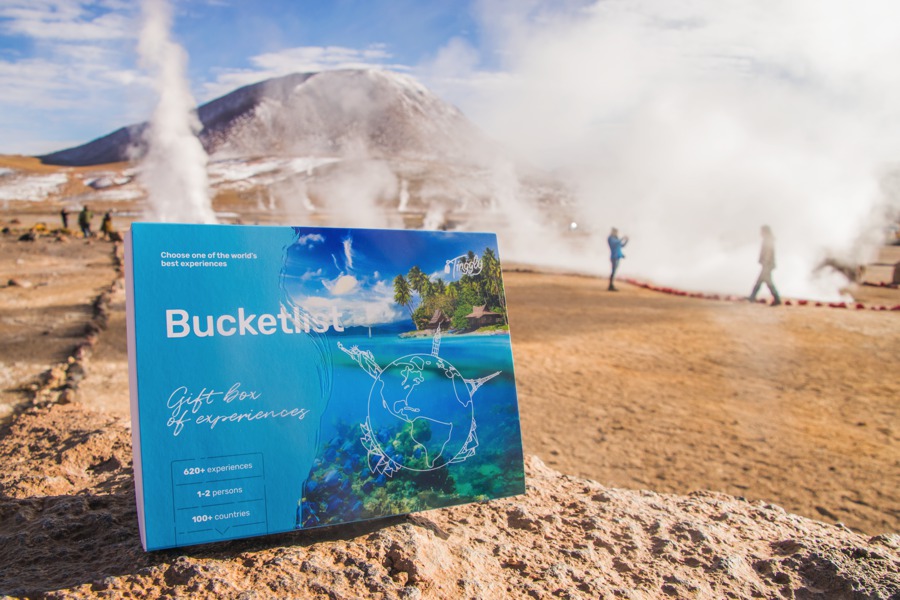 In each category are numerous tours and experiences for your travel-loving friend to choose from (in some cases, there are over 700 options).
Once they've chosen the event that interests them, they have 5 years to redeem it.
Experiences and tours are available worldwide, so just ensure that the gift you choose is offered in the country the recipient is going to.
When it comes to travel gifts, you really can't go wrong with a wine tasting in Tuscany, a helicopter flight over Las Vegas, a day at the spa in Bali or volcano exploration in Hawaii! As travellers ourselves, we can say we definitely prefer memorable moments over possessions.
You can opt to send a physical box to the gift recipient, or send a voucher by email. Click here to learn more about this fun gift idea.
9. Travel-Sized Instrument
One of the best gifts for travel lovers, and musicians is a travel-sized instrument. What better way to connect with people than by singing, dancing and playing music?!
Whether enjoying songs around the campfire, jamming on the beach at sunset, or travelling abroad, in many cases having a small instrument is more practical than a full-sized one.
A travelling ukulele or guitar are great options.
Musician Authority has some great posts on some easy songs for beginners and beginner's guides to playing the ukulele.
For guitar players, you can't go wrong with Martin, and luckily, this company has a travel version guitar. Weighing in at around 2.5 pounds, and fitting in the overhead compartment of planes, the Martin Steel String Travel Guitar is perfect.
Another option is a ukulele which is already small enough to be a travel item. This 21-inch ukulele is lightweight, small, and includes a carrying case and tuner. A great present for travellers!
Another clothing company that is an excellent travel gift. The travel, adventure and yoga clothes that prAna makes are practical, stylish and ethical. This brand cares about fair trade and sustainability.
I personally wear the Halle pant on about 95% of our flight days and I've always worn them when trekking — they're stretchy and comfy.
I also own a sporty tank top, a cotton t-shirt and a hooded sweater, while Nick has a polo shirt, a dress polo and some loose cotton yoga pants. The clothes have lasted us for 7 years so far and are still going strong!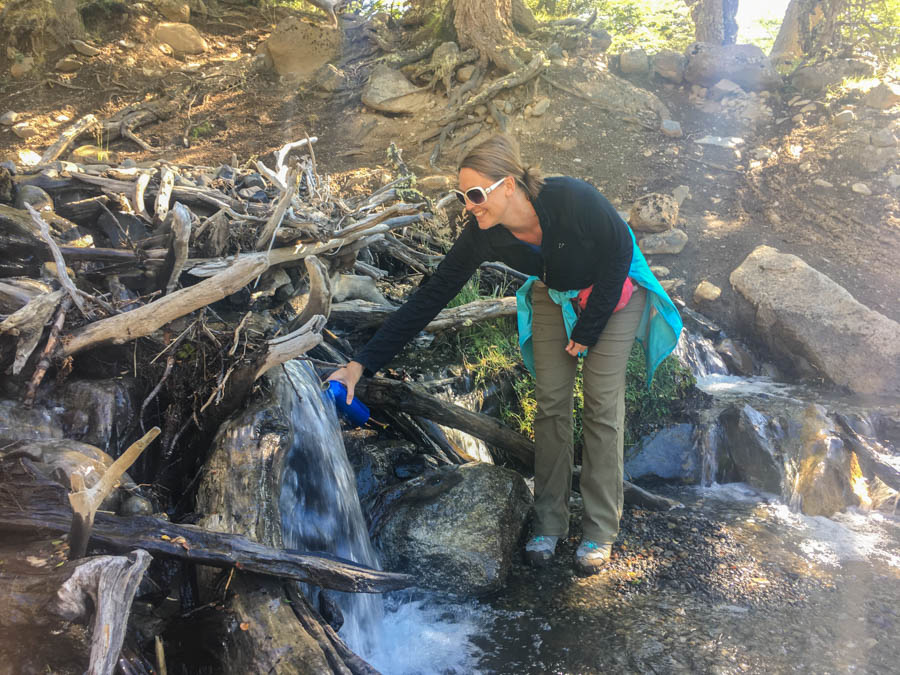 Stopping for a water break while trekking Torres del Paine in Chile – wearing Halle Pant
I wholeheartedly recommend this brand as a gift for the traveller in your life. Click here to see all Prana products on their website. They offer free shipping and 10% off new orders receive
*Update December, 2020: I fell off my bike and got a hole in my Halle Pants that I'm wearing in the photo above. So, after around 6 years I finally had to purchase a new pair, this time I went with black but in the same style. And, they are still built just as well as when I purchased my first pair 6 years ago. Also, for those women who are tall like I am (5'10"), these pants come in a "tall" length!
11. Water Purification Products
When it comes to travel gifts, this might not sound like the coolest idea out there, but it can be a lifesaver and is something that travellers need to have in their bags.
When travelling to more offbeat destinations where the drinking water is questionable, it's imperative that water from the tap is purified before being consumed.
Similarly, when you're camping, cycling or trekking in the wilderness and the water source isn't safe, it'll need to be purified. We used a SteriPen when trekking in remote locations in Kyrgyzstan and it worked very well.
Not only do products like SteriPen or Lifestraw remove harmful bacteria and microbes from water, but travellers don't need to purchase bottled water, which helps to save cash and the environment.
With SteriPen, you simply fill a (reusable) bottle with 1 litre of water and "stir" the pen around for 89 seconds. As you stir, it gives off UV rays that kill harmful bacteria.
Once you see a smiley face on the device, the water is safe to drink. There are different models of SteriPen, some charge via USB, others with batteries.
The Lifestraw is only good for one person as it is a personal straw, which has a filter inside of it.
It's small and lightweight and is a good option for drinking straight from streams or puddles in emergency backcountry situations — it also filters out debris.
I think of it as more of a survival tool, which could be a cool travel gift if someone is going on an expedition. Click here to learn more about the SteriPens available and click here to learn more about Lifestraw.
If you're looking for fun travel gifts, then purchasing a game (or 2) is a good idea! These gifts can also be used for people travelling in a van/RV, going on camping trips, or simply for weekends at home.
If the person is travelling solo, then games for 1 or more are preferable but consider games that can be played with a group over a few beers.
We always have games in our backpacks and play when we're waiting for flights, for our meals to show up, or when we're in our accommodation. Keep in mind that travel games need to be somewhat small and lightweight.
For us, our go-to travel games are Cribbage, a simple deck of cards, pass the pigs, and dice for playing Yahtzee.
Our latest purchase is Bananagrams which is kind of like Scrabble but without the board, and it's more fun. Other hilarious adult games include Cards Against Humanity (a great way to get to know people – and their sick humour), and The Game Of Nasty Things (travellers would just bring the cards and not the actual box, obviously).
Other great options are Monopoly Deal and Skip-Bo.
This is one of the more unique travel gifts on this list.
For people who are travelling around in a van (which is very popular right now), who are travelling slowly or living abroad, or for those who want to set up movie nights in their backyards — get a projector!
These small machines project quality images, making it fun for a group of people or a simple movie night.
Because the projectors connect to your smartphone or laptop, you can also watch YouTube, Netflix, look at your photos on the big screen and more.
We've used projectors with a proper pull-down screen, but we've also used a plain white wall and a white sheet and that works also.
Have a look at this pocket-sized projector (yes, it fits in your pocket!) and this one which is a little bigger but is still considered a "mini" — it's a highly rated, quality product.
There are a few gifts ideas that I want to suggest here — but they won't be available to everyone. I'm recommending them as they are items that are created by good friends of ours, and we want to help support small businesses whenever we can!
Here are a few items to consider:
Handcrafted Caribbean Gin
Owned and operated by our good friends in our adopted home of Grenada, Bluelight Gin is the only gin distillery in the Caribbean. They've worked hard to create tasty bottles of booze, with a tropical vibe.
A portion of their profits goes towards helping keep our oceans clean as well. The gin is now available for delivery in the UK. The perfect addition to your camping trip, van life (while parked!) or weekend at home. Get your bottle here.
Beautiful Paintings
Our talented friend in Grenada has started offering her paintings on Etsy. Paige creates unique pieces with love — from flowers, plants and landscapes, to portraits, animals and fruits. Plus, she can make a one of a kind piece of your pet.
Just send her the photo of your furry friend and consider it done. Learn more on her Instagram account here, or directly on Etsy. Items are shipped from the USA, and there are small-sized prints available, perfect for hitting the road.
One Of a Kind Greeting Cards
Again, more of our talented friends living on the island of Grenada! Lily and Lauren run Pickalily cards, which are hand-drawn and filled with hilarious puns. These unique cards are available online through Thortful for the UK only. See if there is a travel-related, or Christmas card for you. Learn more here.
Happy Gift Giving
There you have it, 12 fun, unique and (more importantly) practical gifts for travel lovers. In reality, no matter what you give your travelling friend, I'm sure they will love it.
But hopefully, this article gave you some good ideas for products that can actually be taken on the road or enjoyed at home this year. Every time your friend uses your gift while they're away, they'll think of you.
Like This Article? Pin it!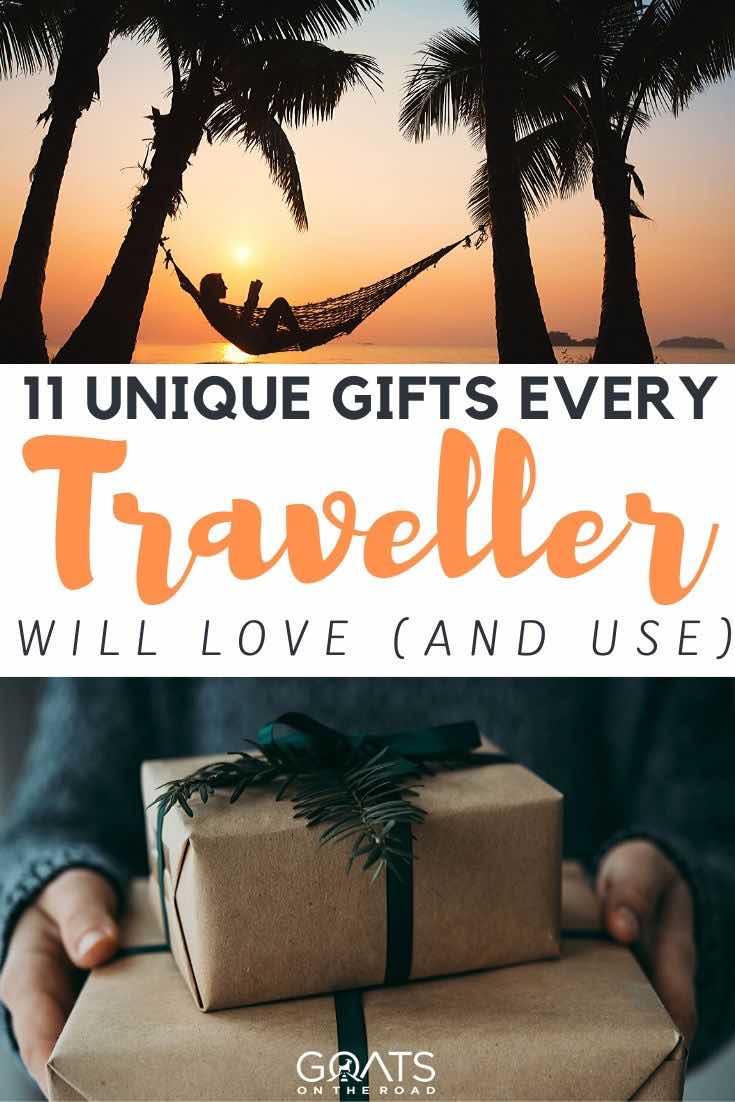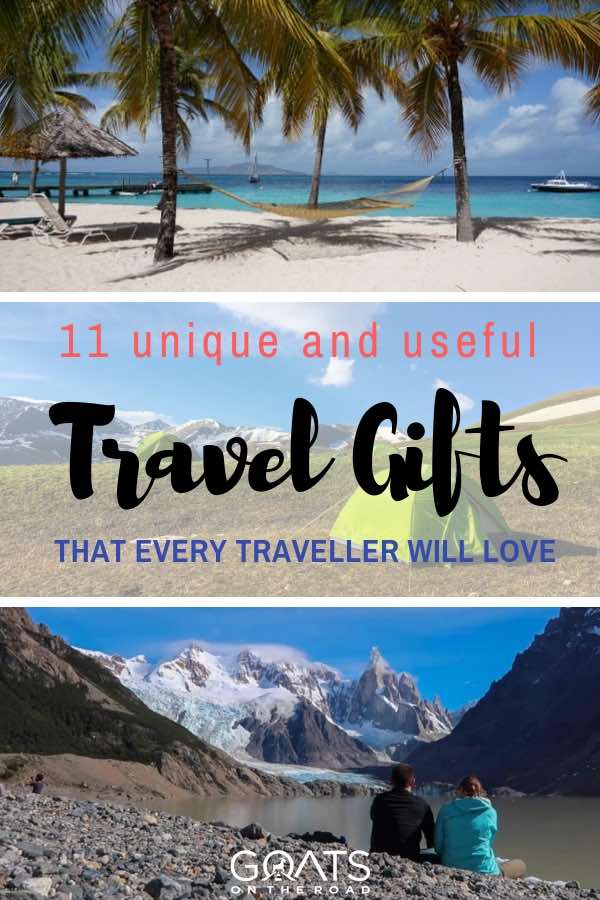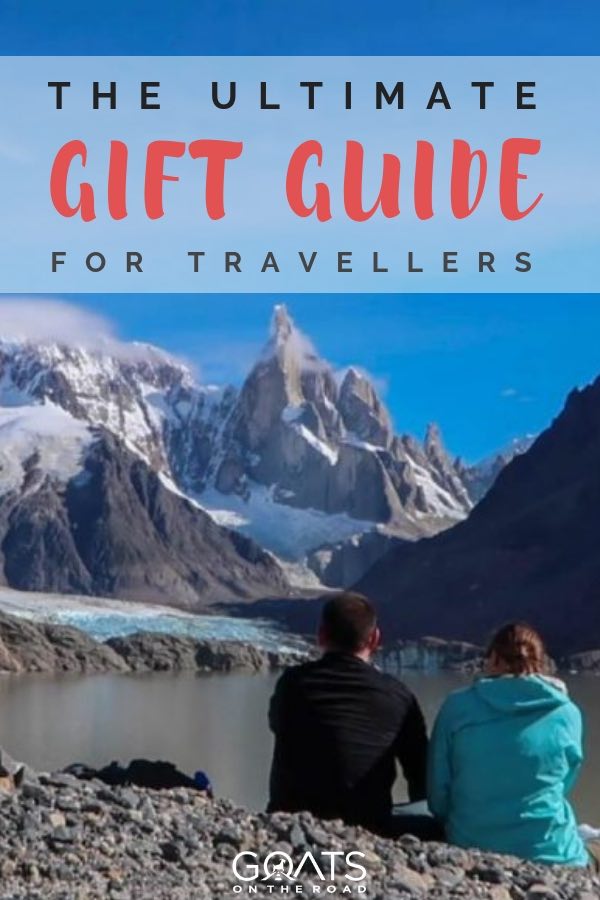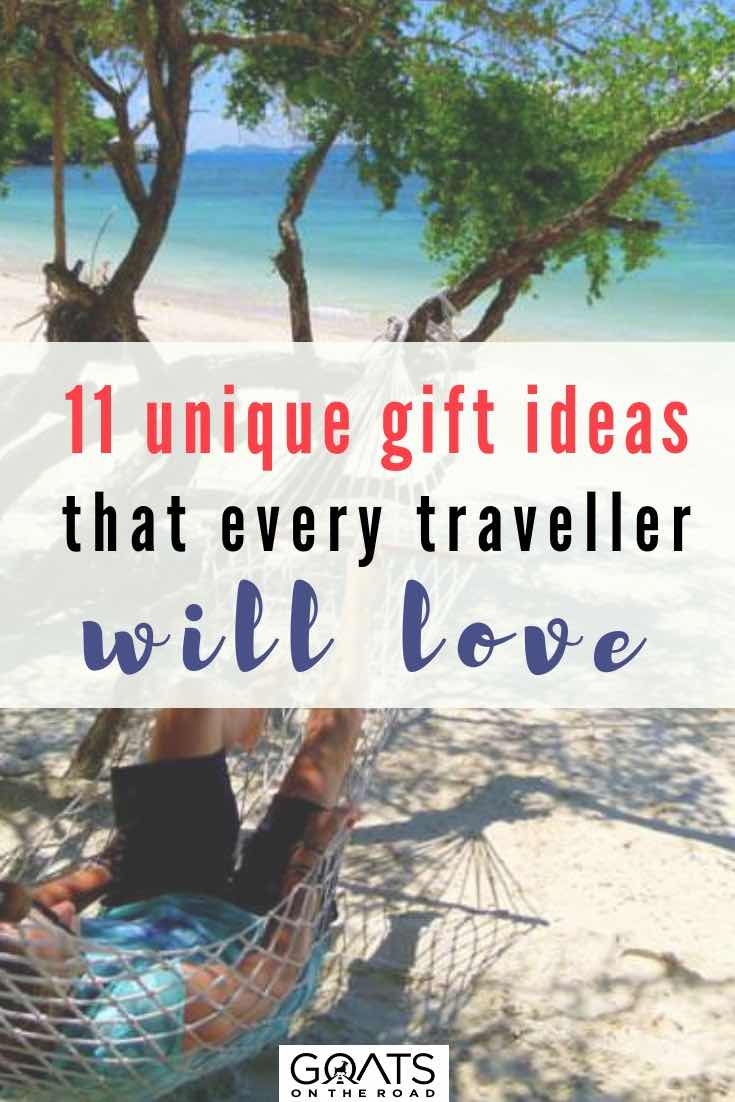 The post 12 Unique Gifts For Travel Lovers (2020 Guide) appeared first on Goats On The Road.
http://feedproxy.google.com/~r/goatsontheroad/AJHf/~3/p6bGnmJRgTk/