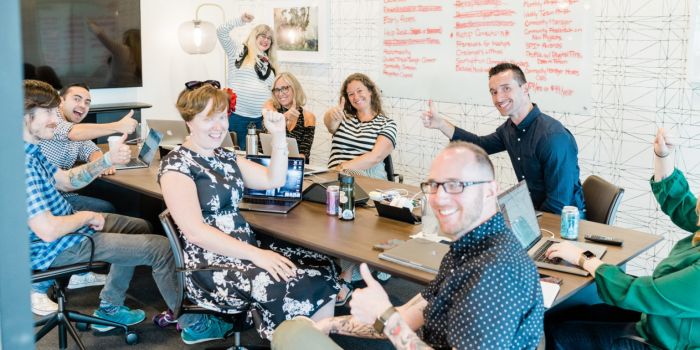 W We launched SPI Pro in July, but our team had been dreaming about it for over a year. Recently, I talked with SPI's co-CEOs, Matt and Pat, about the story of SPI Pro, and why and how we started this membership community. If you're thinking of starting your own membership community, hopefully this will give you inspiration and a way forward.
Step 1: Recognize the Problem
At the end of 2018, Matt and Pat were concerned.
It was right before they merge their two companies (Matt and his team at Winning Edits, a creative agency, merged with Smart Passive Income ), and as they discussed the future of the company, they recognized a problem.
Online course sales had been the main revenue for SPI for a few years by then.
"We were having conversations about the future of online courses," says Matt."We had been tracking the financial performance on SPI course sales for at least a year at that point. So I was thinking about the business model in the future and in the context of the industry and I realized, Okay, we're struggling with certain promotions."
SPI was doing a lot of the same things we had been doing for years, creating courses, and then promoting them. Course promotions and sales were happening a few times a quarter and were labor-intensive and time-consuming.
"Some of our tactics were still working, but it was too risky to just be dependent on one primary revenue stream," says Matt.
Instead, he wanted to create a business model with more stability and predictability. "I felt strongly we needed to grow and diversify across some new offerings, and add some new dimensionality into the business model," he says.
Recurring Revenue? Tell Me More
In all of its twelve years of existence, SPI had never had a recurring revenue component. "Inherently in any business where you're just doing sales all the time, there's a more volatile top line," says Matt.
The other problem with course sales is that creating and promoting them takes a lot of the team's time and energy. "We didn't want course revenue to be the main thing forever. I'm not suggesting that I was worried that course revenue was going to decline to zero or that there was going to be some kind of bubble that bursts in terms of the market popping and people just all of a sudden not buying courses. I don't think that's true, especially not this year when everyone's more than ever going online for education. But it's an inherent, existential threat to this business—or would be any business—if you're just relying on one primary source of revenue."
Matt asked Pat if he was open minded to trying to diversify some things. Pat said he would love recurring revenue as a broader concept.
Okay, cool.
Step 2: Develop the Idea
"So what Pat and I were talking about at that point was more like, 'Oh, what if, what if it was more like a digital conference or a digital gathering,' with that frame of mind," Matt says.
"Entrepreneurship is a very lonely path," says Pat, "especially when you're just starting out and you feel like there's nobody else in the world who can understand you, and it's why people show up at conferences. It's why people are in Facebook groups."
In-Person Inspiration—How FlynnCon Showed the Way
Pat's theory was confirmed at FlynnCon, SPI's first in-person conference, which happened in July 2019.
"There was a certain magic at FlynnCon that we wanted to try to replicate in a certain way digitally, online." Pat says. "Time and time again, I hear feedback about FlynnCon, and it was the moments in between the main sessions. It was those talks in the hallways. It was the connections. It was just the mastermind groups that were created in those moments that really provided the true value there."
Around this time, Matt drew the vision for what, at the time, he and Pat were calling SPI Plus (which would later become SPI Pro).
Having a place where people find each other and get support from each other, and from Pat and the SPI team, was the vision that started to emerge.
Matt's original notecard vision for what SPI Plus (later SPI Pro) could become.
"So it was at the time called SPI Plus in my mind. So you see SPI Plus in the center of the card, not SPI Pro. And it was this six-dimensional, a composite idea of community as represented in the digital sense by Meetup.com."
Components of the Community Idea
Matt's idea had six components. The program needed to have:
Community
Purposeful communications (similar to Slack)
The ability to have private networking (similar to LinkedIn)
A robust knowledge base (similar to HelpScout)
Exclusive access and advice (Clarity)
Enriched content created specifically for the needs of the community
Exclusive discounts
Step 3: Pivot When Necessary
The conversations continued—between Matt and Pat, and eventually the rest of the SPI Team—around the idea of SPI Pro.
During our annual team retreat in Columbus, Ohio in the fall of 2019, SPI Pro was pegged as one of the "big new things" we would launch in 2020.
The post The Story of SPI Pro: How We Built Our Membership Community appeared first on Smart Passive Income.
http://feedproxy.google.com/~r/smartpassiveincome/~3/r62SGVw2wQY/