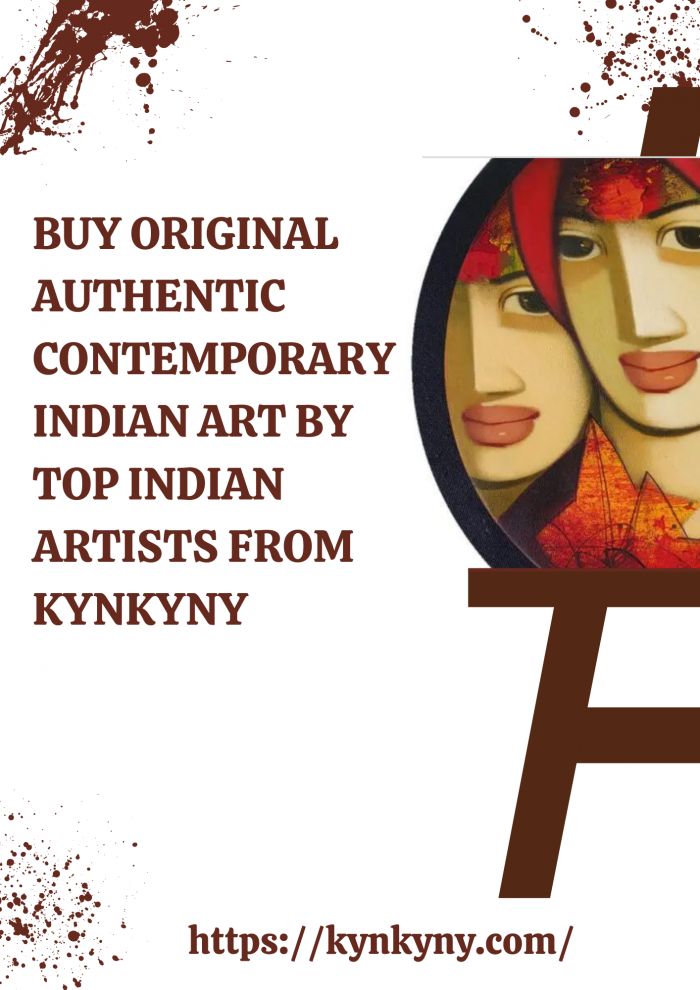 The evolution of Contemporary Indian Art
Indian art has always been a reflection of the nation's rich history, social issues, cultural and religious values. From the Indus Valley Civilization till the present, Indian art has shown all facets of civilization. India is a diverse country, and this is also true of its art. Not only do depictions differ from location to location, but so are the processes used to create the art. To name a few, there is Bihar's Madhubani, Maharashtra's Warli, Madhya Pradesh's Gond art, and West Bengal's Pattachitra. When many art forms remained disconnected from the emergence of the modern age, these art forms continued to change and adapt over time. Not only are these art forms still actively practiced throughout India, but are highly popular and admired by art enthusiasts all over the world.
Indian contemporary art is the amalgamation of western art techniques with Indian sentiments. This style of art is mostly influenced by the current society and the social concerns of the country.
Birth of Contemporary Art Forms
When the British Raj began in the country, the style, manner, and approach of Indian art made a shift. Contemporary Indian art emerged with significant British influence. The pioneers of contemporary art genres included Ravi Raja Verma, Rabindranath Tagore, Abanindranath Tagore, Amrita Shergil, and Jamini Roy. They were well-versed in western artistic methods and greatly influenced by movements like Surrealism, German Expressionism, Cubism, and Dadaism. Raja Ravi Verma was the first painter who used international techniques like oil paintings, color schemes, etc. in his artworks.
Forms of Contemporary Art
The essence of contemporary art has influenced several art forms in the modern era like Painting, Drawing, sculpture, installation art, digital art, performance art, printmaking, land art, and intervention art.
Even though the art of painting has been deemed outmoded on numerous occasions in the past, it has survived and established itself. Paintings are relevant and in high demand worldwide right now because of the influx of various perspectives and artistic imaginations. The painting will continue to hold its value and be admired for a very long time.
Paintings array into two major divisions – Abstract Painting and Representational Painting. Where abstract art is something without any object or character on the canvas, representational art showcases the object of the character of the art piece very clearly.
Abstract art is the artist's imagination of something derived from the real world. Abstract artists or painters keep discovering ways to portray reality through their conceptual representation.
Representative art generally represents events, characters, and objects from the real world. Artists use this art form to illustrate issues, messages, cultures, and customs of society. The influence of ancient history, heritage, and mythology too are presented through this art form.
Significance of Indian Contemporary Art
Indian contemporary art possesses all the necessary elements to leave its mark on both the world of art and the lives of modern people. Due to its multidimensionality, artists can use their creativity to produce unique works of art. Its relevance and significance lie in how it connects with all the people from around the world -
Modern Representation
Contemporary art is no longer only restricted to dated representations of reality due to its adaptable nature. Paintings and other forms of art today serve as symbols for contemporary culture, society, and way of life. The artwork captures the people's current thoughts and perspectives, which is another way it succeeds in connecting.
Appealing Aesthetics
The beauty of contemporary art pieces is intriguing. The paintings, which have vivid colors and skewed brushstrokes, are beautiful to look at and a terrific option for sprucing up a plain interior space.
The blend of eras
Many contemporary Indian painters are currently producing stunning work by fusing the spirit of antiquity with modern imaginations. In this way, the country's historical culture is becoming more relevant and significant in the contemporary era.
Inspiring
There is no boundary for imagination when it comes to contemporary paintings. The new age artists are extremely imaginative and playful with their strokes to create something inspiring to look at. If an artwork can motivate you every time you look at it, the purpose of the creation is served.
Presently, artists from various regions of India are the focus of numerous art galleries across the nation. Elevating the new generation of artists will not only inspire them but will also help the business financially at a time when modern art is in high demand. Online art galleries are crucial in assisting small-scale artists in reaching a wider audience with their work. Through these websites, emerging and small-scale artists are recognized, and their creations receive the proper recognition and admiration. Also to buy artworks online, go with websites that offer original and authentic artworks respecting the art and the artists.
Visit https://kynkyny.com/ to know more about Contemporary Indian Art.