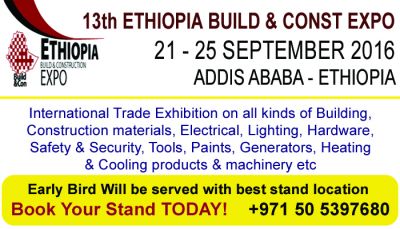 INVITATION
TO PARTICIPATE AT
13th ETHIOPIA BUILD & CONST EXPO
21 - 25 SEPTEMBER 2016
ADDIS ABABA - ETHIOPIA
HALL # 1, 2 & 3
International Trade Exhibition on all kinds of Building, Construction materials, Electrical, Lighting, Hardware, HVAC , Safety & Security, Tools, Paints, Generators, Heating & Cooling products & machinery etc

EXPORT TO 98 MILLIONS ETHIOPIA MARKET
NEW MARKET - NEW OPPORTUNITIES

It is our great pleasure to invite your esteemed organization to participate as an Exhibitor at the 13th ETHIOPIA BUILD & CONST EXPO 2016, an annual and biggest International trade Exhibition for the entire Building & Construction Industry products, Machinery & services to be held at Addis Ababa Exhibition Centre Hall No.1, 2 , 3 & 4 located in the capital city, Addis Ababa starting from from 21 – 25 SEPTEMBER 2016. According to our 17 years experience & market reports, we foresee a tremendous demand and response at the Exhibition for of " ALL KINDS OF BUILDING & CONSTRUCTION PRODUCTS", as Ethiopia Imports almost everything. With over 98 Million Population, Ethiopia emerges as one of the most attractive and potential export market in East Africa for Foreign Manufacturers & exporters.
LATEST UPDATE:-
Over 300 Companies are participating from 20 Countries as follows. BAHRAIN, CHINA, , DJIBOUTI, EGYPT, ETHIOPIA, FRANCE, INDIA, INDONESIA, IRAN, ITALY, KENYA, KUWAIT, MALAYSIA, NIGERIA, OMAN, PAKISTAN, QATAR, SAUDI ARABIA,SUDAN,TURKEY, UAE,Etc.
According to the last year statistics and survey, Ethiopia have been witnessing a constant rise in International participation with figures reaching as high as mentioned below.Therefore, It is my conviction that your participation will be of great significance in providing you the perfect platform for achieving your export business objectives. As per the response from the previous shows, we strongly beleive that your products are well in demand. In fact almost all Building & Construction products have a excellent market potential in Ethiopia as the region is much more of an importer than a producer and demand is unlimited.
LAST YEAR EXHIBITORS SUMMERY & STATISTICS: -
NATIONAL PAVILIONS - 4
COMPANIES EXHIBITED - 233
INCREASE IN PARTICIPATION - 23%
FOREIGN EXHIBITORS - 107
EXHIBITORS FROM - 15
VISITORS FROM - 11 COUNTRIES
TOTAL VISITORS - 7,500
EXHIBITOR PARTICIPATION - BY COUNTRY:-
ETHIOPIAN COMPANIES - 126
INTERNATIONAL COMPANIES - 107
TURKEY - 49
UAE - 15
ITALY - 13
CHINA - 10
COUNTRIES PARTICIPATED LAST YEAR:-
1. CHINA 2. EGYPT 3. ETHIOPIA
4. INDIA 5. ITALY 6. JORDAN
7. KOREA 8. KUWAIT 9. LEBANON
10. OMAN 11. SAUDI ARABIA 12. TANZANIA
13. TURKEY 14. UAE 15. YEMEN
ETHIOPIA TRADE EXPO is supported by
Ethiopian Construction Association
Addis Ababa Construction Association
Addis Ababa Chammber of Comerce
PRODUCTS ON DISPLAY:-
The entire Building, Construction materials, Electrical, Lighting, Hardware, HVAC, Safety & Security, Tools, Paints, Generators, Heating & Cooling products & machinery etc.
As a Participant, you'll have the opportunity to connect with hundred of qualified buyers from all over Ethiopia as well as neighbouring countries eager to find new products and technology for their customers.
Don't miss your opportunity to find potential new business partners at the Ethiopia's single largest gathering of Industry executives.

We have designed economical packages with 4**** & 5***** Hotel accommodation for our valuable Exhibitors in order to get more business leads and explore the possibilities of new trade buyers during the biggest trade fair.
For Complete Information Kindly fill the below form with complete details in capital letters & send us back for further process.
--------------------------------------
CONTACT PERSON :-
POSITION :-
COMPANY :-
ADDRESS :-
TEL :-
FAX :-
E-MAIL :-
WEBSITE :-
PRODUCTS :-
---------------------------------------
BOOKING DEADLINE -
(EARLY COME EARLY SERVED)
A complete exhibitor information packet along with top 1000 Tanzanian importers , Agents ,Distributors & buyers addresses with email and executives names will be EMAIL to every confirmed exhibitor.
I look forward to having the opportunity to talk/meet with you at your convenience to discuss further about the same.
For any further information do not hesitate to contact me on mobile + 97150 – 5397680


Thanks & best regards,

TAYYAB BUKHARI
Head of Sales & Marketing
INNOVATION MARKETING
P. O. BOX 6497, DUBAI - UAE MOBILE2 :- +97150 - 5397680 SKYPE: tayyabshah12
FAX :- + 9714 - 3 5 1 7 7 8 4
EMAIL :- tayyab@inexpo.ae / tayyabshah5@gmail.com africa03@eim.ae / salman@inexpo.ae
WEB :- www.inexpo.ae